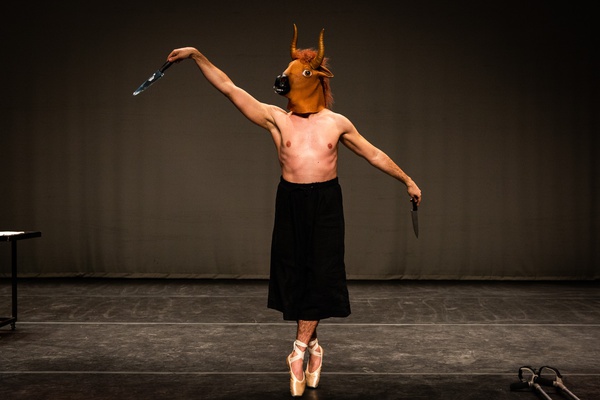 Projections
PROJEÇÕES 2022
March 21st, 2022, Coliseu Porto Ageas

Projeções is a cycle for the presentation of work by emerging artists and future creators. The goal is to support these artists in the creation and dissemination of their projects.
PROJEÇÕES
Emerging Artists Performance Cycle


EM LAIVO
Mariana Dias and Rafael Pinto | 8'
Presence of an earlier trace. Laivo exists. Space of two, one. Connection. Cycle.
Conception and performance: Mariana Dias and Rafael Pinto
Music: Vítor Joaquim
Light design: Mariana Dias and Rafael Pinto
Costumes design: Mariana Dias and Rafael Pinto


QUERO IR
Ema Ferreira and Beatriz Ramos | 12'
Quero ir is a piece for soprano and fixed electronics written by Ema Ferreira, which makes use of the homonymous poem by soprano Beatriz Ramos. The sounds of spoken, sung and whispered voices present in the electronics come from recordings about the poem, made with Beatriz. The use of these recordings is crucial for the universe of the piece, where the electronics and the singer are ramifications of each other, making it ambiguous which one of them is the origin, and consequently it can be assumed that they are only one.
Musical composition: Ema Ferreira
Poem: Beatriz Ramos
Voice: Beatriz Ramos
Electronics: Ema Ferreira


INTERVALO
João Pires | 10'
What if, in the intermission of a show called Intermission, two theater curtains could talk? Inspired by Edward Hopper's Intermission (1963) and by melancholy, I personify the curtains that are in the upper right corner of the work in order to question the positioning of theater in a society. I give them two voices: the voice of reason and the voice of emotion. Is the theater a place with more or less truth than reality? Is the theater a democratic space or a space for vanities?
Conception: João Pires
Text: Erica Rodrigues and Isac Graça
Performance: Erica Rodrigues and Isac Graça
Production: PlayCompany
Light Design: Sérgio Gaspar
Support: Companhia de Atores, Companhia Olga Roriz, Greenplot, Yves Rocher, Nix, Luso, LG Probeam
Acknowledgments: Cláudia Semedo, Tiago Fernandes, Diana Bicho, Sérgio Gaspar, Pedro Caldeira / Tripé, João Coroa Justino, Filipa Magalhães, Sandra Sousa


LADYLIKE
Sofia Kafol | 11'30
Dancer, artist, human, weeping willow, body-archive, dynamite, queer, green island, body of pleasure, woman in this society. A journey of deconstruction: physical, emotional, sensorial, personal, sociological, human, and imaginary. Melting beauty into monstruous, letting go to sprout again, a metamorphosis that is continuous, fluid, feminine. I dive into sensorial memories, through what the body accumulates, distorts, vomits, metabolises, creates, dreams, lives, loves, leaves, transforms, disgusts, desires. My intimacy as a starting point. A scream. A body available to listen. An act of courage.
Conception and performance: Sofia Kafol
Photographgy: Allegra Palù, Massimiliano Arnone, Giulia Zuccheri
Teaser conception: Tomaž Kafol
Support: Oficina ZERO (PT), Danza STEP Trieste (IT)
Acknowledgment: Lea Siebrecht