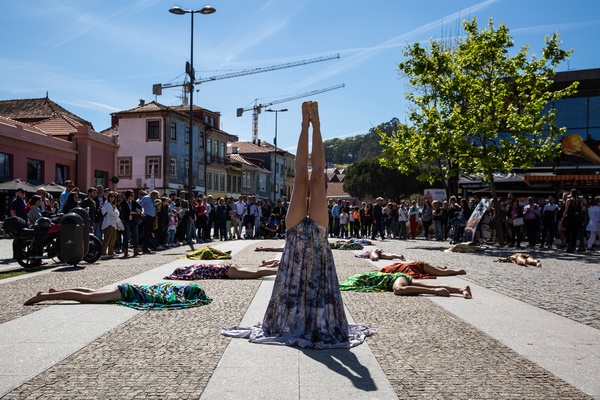 corpo+cidade
Corpo + Cidade is a festival created in 2014, the year in which Balleteatro moved to the 5th floor of the AXA Building, in Avenida dos Aliados, at the invitation of Porto Lazer/Câmara Municipal do Porto. The new house inspired the creation of a festival specially dedicated to the public space, promoting a reflection on performative art in that context, accessible to all.
The concept, the reinvention of the city, promoting new urban experiences, in an encounter/crossing through the contemporary languages of dance.
Humanizing, bringing closer and, in some way, disturbing the senses, by creating new connections to space and to the relationship with architecture, are also aspects that have run across the Corpo + Cidade festival since its creation.
In 2016, with the creation of DDD - Festival Dias da Dança, balleteatro, as a partner, integrates its festival, Corpo + Cidade, in this great event dedicated to Dance and with programming in several cities.
With this collaboration, Corpo + Cidade keeps its function, the programming for public space, becoming designated Corpo + Cidade DDD OUT.
Isabel Barros
____
Download the programme.
CORPO + CIDADE
24-30 APRIL 2021
Free online streaming:
festivalddd.com
24 APR 15:00 - 30 APR 23:59
objeto-dança
Isabel Barros, Max Oliveira, Pedro Carvalho, Cláudia Marisa
Índigo (a cor entre o céu e o mar)
Ana Renata Polónia, Marta Ramos
26 APR 15:00 - 30 ABR 23:59
Dois Peixes em Marte
Andreia Fraga, João Oliveira
PLUTÃO
Ricardo Pereira Carvalho

29 APR 15:00 - 30 APR 23:59
Darktraces
Joana Castro
131 OUT
Sara Marasso, Stefano Risso

20 - 30 APR
Performativities in the public space, today
Conversation with the Artists
Moderation: Gabriela Vaz-Pinheiro
online at balleteatro.pt
____
Download the programme.
Artistic Direction: Isabel Barros
Programmers: Isabel Barros, Flávio Rodrigues
Production coordination: Lucinda Gomes
Production assistant: Lúcia Ribeiro
Technical direction: Alberto Lopes
Communication and Press: Sandra Mesquita
Design: Telmo Sá – Estúdio AS
Finance: José Paulo Sousa

Supported by (2021):
Casa Comum / Universidade do Porto
C.A.M - Grupo Auto-Industrial S.A