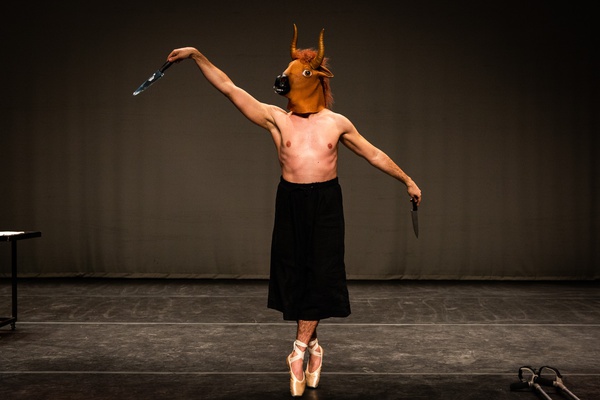 Projections
PROJEÇÕES - 4th EDITION
19 de maio 2021, Coliseu Porto Ageas

Projections, the performance cycle dedicated to emerging artists, is back in 2021 with proposals by Andreia Alpuim with Andreia Marinho, Duarte Valadares, Charlotte Gergaud and Vanessa Vieira da Cunha. The main mission of this cycle is the promotion of performance projects by emerging artists and future creators, supporting the creation and production of small format works.
ONDAS DA TERRA
Vanessa Vieira da Cunha | 6'
"Ondas da Terra" represents solitude, cyclicality and renewal. A single body, which moves through space without motivation or purpose, in repetitive incoherent cycles and without awareness of how disintegrated it is. The play seeks to reflect the state of inertia in which, consciously or unconsciously, we allow ourselves to be positioned; the deprivation of choice, position or direction that leads to similar outcomes in unequal situations. Is free will real?
Choreography and performance: Vanessa Vieira da Cunha
Sound Design: Tushar Das
Image: Luís Pedro Ferreira
Support and monitoring of creation: Heleen Volman - DansBrabant, Marc van Loon - FHK Dans
External look: Katti Rocha and Etienne Tribu
Support for artistic residency: Play Practice Artists Residency
NINGUÉM ME ENSINOU A OLHAR
Andreia Alpuim and Andreia Marinho | 10'
"As with everything I believe I know, I had to learn to look at the things around me on my own.", in O movimento das coisas, talvez... by José-Manuel Xavier
We were interrupted by these words, overwhelmed by this need to look, on us and on you. How do I behave under your scrutiny? How do I see what I can't? How do I make you feel the way I do?
Artistic direction: Andreia Alpuim and Andreia Marinho
Creation and performers: Andreia Alpuim and Joana Cunha Pinto
Musical direction and music: João Carlos Pinto
Costumes: Andreia Marinho and Andreia Alpuim
Production: Andreia Marinho
Photography: Joaquim Leal
Support: Escola Superior de Dança and Estúdios Vítor Córdon
RUBBLE KING
Duarte Valadares | 18'
Rubble King introduces a body that tracks archetypes. An entity inside a sandbox, a place of unlimited information, an excessively productive circuit looking for assimilable models. This universal body is viral, an unfiltered circuit, randomly interrupted by self-satisfaction. Glimpses of real movement structures are present as if they were a second skin, the intelligent artificial one. Change, change, change, evolution through immersive ambiguity, a rational ridicule.
Choreographer and Artistic Director: Duarte Valadares
Co-creator: André Cabral
Performer: Marco da Silva Ferreira
Musical Composer: Olli Lautiola
Costume Designer: Pawel Androsiuk
Visual Artist: Oscar Cassamajor