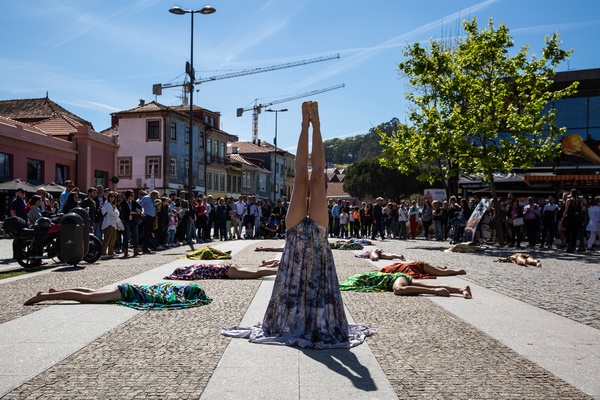 corpo+cidade
Corpo + Cidade was created in 2014, the year in which balleteatro moved to the 5th floor of the Axa building. Over the years, as an integral part of its project, Balleteatro has produced cycles and festivals that contributed to the dissemination and sharing of projects that inscribed contemporaneity. This project, Corpo + Cidade, emerges in this pulsing of life and art that can cross daily life. In the Axa building - facing Avenida dos Aliados, the so-called heart of the city - emerged, therefore, the will to reflect
that city, to contaminate it artistically, projecting dancing and image-making bodies, erasing the line that separates the audience and the performer.

We idealize to enter in the daily stream of the passers-by and, somehow, make them slow down, provoke, cheer and enjoy the dynamics and fluidity that is the public space.

The view of the Avenue and its movement, from that space/house, propelled the creation of a Festival for the public space. Corpo + Cidade proposes to participate in the reinvention of the city, enabling new urban experiences, crossing contemporary dance, urban dances, performance, contemporary circus, music and visual arts.

In 2016, Corpo + Cidade joined forces with DDD - Festival Dias da Dança starting to present its proposals in the section DDD OUT. From Avenida dos Aliados, where proposals by Ricardo Ambrósio or Ana Ulisses were activated, other places branched out: the exterior of the metro and train stations with Joana Von Mayer Trindade; Jardim do Carregal with Gabriela Vaz Pinheiro; Jardim do Morro (Vila Nova de Gaia) with Bruno Senune, Sara Marques and Alice Bonazzi or Lígia Soares; Jardim de São Lázaro with Pedro Prazeres; Jardins do Palácio de Cristal with Charlotte Spencer; Praça D. João I with Isabel Barros and Vítor Rua, Momentum Crew or La Horde; and Casa da Arquitetura (Matosinhos) with Jean Baptiste-André, besides other spaces,
equally challenging, and with so many other artists who offered the public multiple and fascinating proposals.

So far, Corpo + Cidade has also inhabited places less exposed to the indoor/outdoor relationship, whenever the proposals aimed at debating and conferring public art and site-specific. This was the case, for example, of the projects by Maria Belo Costa and Carlos Zíngaro, with Cecilia Bengolea, François Chaignaud and Ana Pi in Le Tour Des Danses Urbaines En Dix Villes, or with Né Barros and her conference entitled O lugar do Corpo. There was also room for stage proposals - these rarer ones -, which somehow reflected and took the street and its vivifying dances as a basis for thought and exploration, as  happened with Bouziane Bouteldja's piece.

In 2019, almost in a premonition, Daniel Pinheiro and Lisa Parra, with Mediated Motion/Land Project, broke the barriers of physical distance, nurturing a presentation that occurred online.

In 2020, Corpo + Cidade was ancelled due to the pandemic scenario.
In 2021, still due to issues associated with the pandemic, all projects took place outdoors, keeping the concept of creations in public space, but the transmission happened within this sphere so present in our lives: the Internet. Ana Renata Polónia and Marta Ramos, for instance, gave us the view to the sea, from the Marginal de Matosinhos. Sara Marasso and Stefano Risso  made us imagine a walk through Lisbon and Turin.

More than a programme of choices, Corpo + Cidade is completed and happens through affinities and responses to the  motivations of artists who imagine their creations in less common or usual places. Corpo + Cidade intends to be an encounter  between creators, spaces (where the sun, wind and rain embrace us) and their communities - a triad in which we believe and which we want, with experimentation and the passage of time, to enable us to grow and strengthen in the territory of that which we call Art, with so much respect and dedication. 

The essence of Corpo + Cidade, performance in public space, returns in this edition with a diversity of proposals, one of which, Crossing Spaces / Living Bodies, marks the encounter between Corpo + Cidade and the Master of Art & Design for the Public Space, a collaboration that began in 2014, during the first edition. In 2022, Corpo + Cidade will have its natural approach to people, in a conscious gesture of invitation to this experience of participation and of living in the city.

Isabel Barros & Flávio Rodrigues
CORPO + CIDADE
23 APRIL - 1 MAY 2022
24 APR 15:00 - 30 APR 23:59

23 APR 15:00
Crossing Spaces / Living Bodies
balleteatro & FBAUP
Jardim de São Lázaro

24 APR 15:00
Dançar na Rua
Miguel Moreira / Útero
Largo da Sé

25 APR 18:15
ferro à ferrugem
Alan Sencades
Praça D. João I

29 APR 15:00
Doramar
Coletivo Los Francos - Afonso Cunha & Giovanni Zoffoli
Jardim da Cordoaria

30 APR 18:00
Self
Beatriz Valentim
Parque Basílio Teles (Escadaria da Casa do Design)

1 MAY 17:00
solo - repercutir em sinfonia
Bruno Senune
Jardim do Morro
Artistic Direction: Isabel Barros
Programmers: Isabel Barros, Flávio Rodrigues
Production coordination: Lucinda Gomes
Production assistant: Lúcia Ribeiro
Technical direction: Alberto Lopes
Communication and Press: Mariana Dixe
Design: Telmo Sá – Estúdio AS
Finance: José Paulo Sousa

Supported bY:
C.A.M - Grupo Auto-Industrial S.A