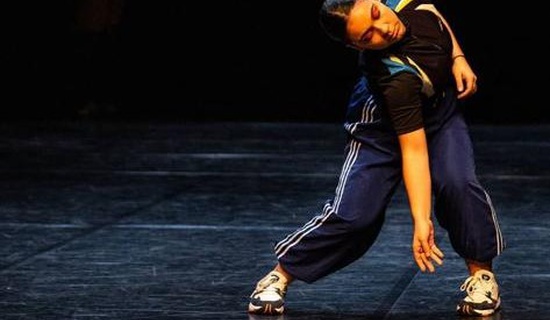 Dança Contemporânea
Dança Contemporânea (11-15 anos)
The contemporary dance classes for students between the ages of 11 and 15 have as main objective the development of interpersonal relationships, as well as the exploration of the notion of identity and understanding about the body and how it positions itself in the world through movement. The classes will be a combination of several contemporary dance techniques, also combining improvisation and creation exercises that aim to give the student a solid contemporary dance vocabulary.

Horarios
Segunda-feira 19h00 - 20h00
Quarta-feira 19h00 – 20h00
Dança Contemporânea (Adultos | +16 anos)
The objectives to be achieved with these classes, beyond the approach to contemporary dance from a more technical perspective, namely through approaches to Floorwork, Partnering and improvisation, will be the development of body awareness and relational skills both on an individual and interpersonal level. We seek a broad understanding of what the body (and each body) is aggregated to the tools with which it comes inherently equipped and in the background how we can use them in practical, effective and more conscious ways not only in a studio and class context, but in general in our daily lives. 
Horarios
Segunda-feira 20h00 - 21h30
Sexta-feira 18h30 – 20h00
Quarta-feira 20h00 – 21h30
Dança Contemporânea (6-10 anos)
The contemporary dance classes for students from 6 to 10 years old have as their main goal to awaken curiosity for the discovery of the world and the senses that are receptible through the body and movement, as well as to work on interpersonal relationships. The classes seek to explore a diversity of practices from technical exercises to creative and improvisational exercises, so that children can discover their creative and movement abilities.


Horarios
Quarta-feira 18h00 - 19h00
Segunda feira 18h00 – 19h00
Dança Contemporânea (Adultos)
Aulas destinadas a pessoas que gostariam de experimentar ou que pretendam retomar o seu percurso em Dança Contemporânea. Ao longo do ano letivo, iremos percorrer as diversas componentes desta linguagem, tendo em conta a composição da turma e as experiências artísticas da professora.
Horarios
Segunda-feira 18h00 – 19h00
Andreia Fraga
Andreia Fraga, 1998, began her artistic career in Balleteatro Escola Profissional as a contemporary dance performer, where she had the opportunity to work with artists such as Né Barros, Cristina Planas Leitão, Flávio Rodrigues, Félix Lozano, Bruno Umberto, Joana von Mayer Trindade, among others. In 2017 he premiered his first creation "Antes que Mude de Ideias" through the program "Paralelo - 20 minutes" supported by Teatro Municipal do Porto. She finished her degree in Dance at Bath Spa University (UK) in 2020, where she worked with several companies and artists such as Impermanence Dance Theatre, Lila Dance Company, Antonia Grove, and Vicki Hearne.
In 2020 she did an internship with the Almada Dance Company and choreographic assistance for the piece 'Hodiernidades' by Flávio Rodrigues. In 2021 she became associated artist of Visões Úteis for the biennium 2021/2022. Still in April 2021 she premiered "Dois Peixes em Marte" her duet with João Oliveira at the DDD Festival.
In 2021 she started an internship in Cultural Production with Esquiva Dance Company. She is currently finishing her master's degree in Performing Arts in Production and Stage Direction at ESMAE.
Victor Gomes
Victor Gomes 1993, graduated from Escola Superior de Dança, Lisbon 2014.
Integrates as a performer the projects Sem Chão, Sem Fim, Sopro, Eternuridade and Um fio de ar by Amélia Bentes, Stay Still, Stand Silent by João Cardoso, SUGAR by the collective SillySeason, As cores da água by Projeto Cardo, among others. She co-creates the pieces Adapted to Y&Y with João Cardoso and Na Ausência de Ternura with Juliana Fernandes, currently co-produced by Teatro Municipal do Porto and Instável Centro Coreográfico. Member of the organization team of the Summer Intensive PT Festival 2015-2019. Attended the professional training Performact, 2018/19 and integrated the team of trainers and organization 2020-21. Part of the LETHES EM BRUTO festival team as a guest creographer.
Diana Vieira
Natural do Porto, inicia a sua formação em Dança aos 5 anos. Aos 16 anos, ingressa no 
Ginasiano e, em 2015, conclui a licenciatura na ArtEZ Dansacademie (Países Baixos). Dança na 
Konzert Theater Bern (Suíça) durante um ano e continua a sua formação no MoDem Pro de 
Roberto Zappalà (Itália). Regressa a Portugal, começando a lecionar em locais como o
Ginasiano e a Companhia Instável, a crianças, adolescentes e adultos, em modalidades como 
Dança Clássica, Contemporânea e Criativa. Em 2018, faz a Pós-Graduação de Ensino em Dança 
da Escola Superior de Dança. Paralelamente ao ensino e à formação contínua, participou em 
diferentes projetos, como bailarina e co-criadora, incluindo Mirror Piece de Joan Jonas 
(Fundação de Serralves). Atualmente, frequenta a licenciatura de Fisioterapia na Escola 
Superior de Saúde, e continua o seu percurso no ensino.
Deeogo Oliveira
Diogo Oliveira, 29 anos, nascido no Porto, mantém a sua paixão pela dança desde os 9 anos de idade. No seu percurso destaca que é membro integrante do grupo de dança urbana "Momentum crew", a conclusão da Formação Avançada em Interpretação e Criação Coreográfica (FAICC) com a Companhia Instável, e o seu mais recente solo, "ninguém" com criação e interpretação autónoma a convite da Erva Daninha e do Teatro Municipal do Porto.
Intérprete de movimento no espetáculo "Al mada nada" e "talvez...Monsanto" de Ricardo Pais, "Portvcale" e "Música e Movimento" de Max Oliveira, "Fall" de Vitor Hugo Pontes, "Kadok" de Oliveira&Bachtler, "Revoluções" de Né Barros, "Ballet de causa única" e "Come from somewhere, go anywhere" de Willi Dorner, "Glissando Opus Mastro" e "Circoonferência" de Radar 360, "Our Own Roof" de Hugo Viera e "Vivo ama Morta" de Ensemble, sociedade de atores. Co-criador e intérprete de "Kokoro" com Ana Isabel Castro (Palcos instáveis / TMP) e de "SOLO" com o encenador Manuel Tur (Teatro Aveirense).
Paralelamente desenvolveu e adquiriu diferentes títulos dentro do universo das danças urbanas, como: Vencedor de um campeonato mundial de breaking na categoria 1vs1 no evento "The bboy Gala" e na categoria grupo contra grupo no evento "Battle pro" e "Warsaw Challenge". Campeão nacional na categoria 1vs1 no evento organizado pela World Dance Sport Federation (WDSF) e pela Federação Portuguesa de Dança desportiva (FPDD). [2016-2019]
Formador de dança contemporânea no Conservatório de Dança do Norte (CDN), na Academia Contemporânea do Espetáculo (ACE), Balleteatro escola profissional (Serviço Educativo), Gretua (universidade de Aveiro), Oficina Zero e também no instituto nacional de Artes do Circo (INAC).
More on Educational Service