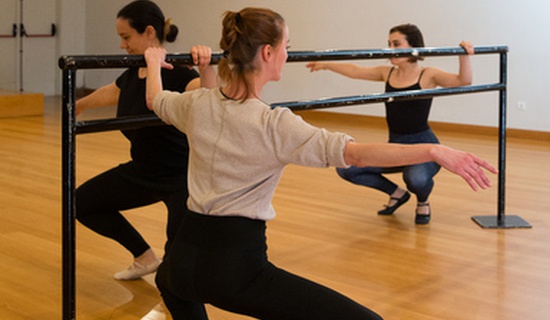 Ballet
Ballet (Iniciação)
As the student discover the art of classical ballet, will progressively improve the coordination, physical awareness, and spatial orientation.
The exercises in the ballet classes will also help develop musical appreciation and stimulate individual expression.
The classes will be essentially practical, where we will introduce the basic steps of ballet and its French terminology.

Horarios
Terça-feira 18h00 – 19h00
Ballet (Intermédio)
The classes will cover classical ballet technique in a relaxed environment where beginners, beginners, teenagers, and adults will feel integrated.
Through exercises on the barre and in the center, the student will develop tone, flexibility, and improve alignment and posture. The search for pleasure in movement will always be the main objective.

Horarios
Terça-feira 19h00 – 20h30
Vivien Ingrams
Born in England, Vivien graduated from the English National Ballet School and Rambert Dance School. In 2006 she began her career as a dancer with the Ballet Biarritz Junior. With the Bozsik Yvette Company of Budapest, Vivien collaborated on multidisciplinary creations, and returned to performing classical and neoclassical repertoire with the Ballet de l'Opéra National de Bordeaux. Vivien continued her freelance career in the Basque Country with the companies Kukai and Elirale. In 2011 Vivien joined the Ballet de Lorraine in France, where she performed repertoire by Trisha Brown, Merce Cunningham, Twyla Tharp, Martha Graham and played roles in contemporary creations with choreographers such as Olivier Dubois, Maria La Ribot, Mathilde Monnier, Gisèle Vienne, François Chaignaud and Marcos Morau.
More on Educational Service