serviço
Educativo
aulas semanais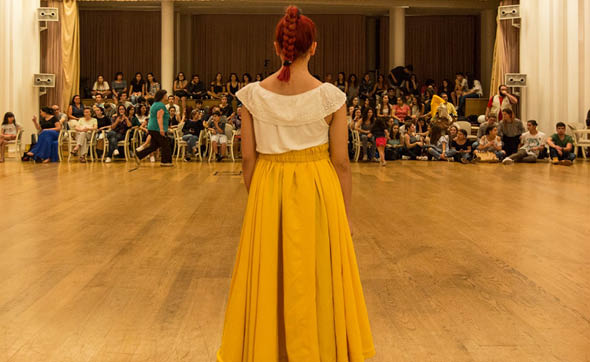 Sónia Cunha 
She began her studies of classical dance at the Escola de Bailado Fátima Valle da Veiga, according to the method of Royal Academy of Dancing. She finished the Professional Dance Course in Balleteatro Contemporâneo do Porto. She teaches classical ballet at the Balleteatro Escola Profissional since 1996 and she is a Balleteatro performer since 1992. She attended an internship in Classical Ballet taught by Anabela Guimarães and other workshops given by Jordi Cortês Molina, João Fiadeiro, Clara Andermatt, Peter Michael Dieis, Paulo Ribeiro, Companhia Raiz di Polon.
Carlos Silva 
He began his training in dance at the balleteatro where he finished his professional dance course in 1998. He attended the Northern School of Contemporary Dance, England, finishing his BPA in 2003. That very same year he did a traineeship (Master Class) with the Rambert Dance Company in England. He has worked in the past years as a teacher in several structures of Contemporary Art and cooperated with multiple choreographers. He founded the structure Movimento InCriativo, where he directs his own projects since 2006.
Camila Neves
Camila Neves - Porto, 1987. Currently lives and works in the city of Porto. She began her studies in dance in 1993 through the Royal Academy of Dance program which she completed in 2007. She began her dance training at Escola Superior de Dança - IPL, concluding it in Barcelona at the Institut Superior del Teatre under the ERASMUS program. She later decided to do some training courses, Flying Low & Passing Through, and more recently (July 2016) oGAGA Intensive Summer in Barcelona at the Institut del Teatre. In 2014, she completed her post-graduation in Artistic and Cultural Management at IPVC. Currently completing her master's degree. She taught classical dance, contemporary dance and modern jazz in different schools in the Porto district since 2013. She joined the company in 2014 as a resident interpreter at the Ballet Contemporâneo do Norte Company, working with such names as Mariana Tengner Barros, Flávio Rodrigues, Joclécio Azevedo, Tânia Carvalho, among others, taking over from 2015 as Freelance Interpreter and Producer, counting on experiences with Bruno Senune, Flávio Rodrigues, Joclécio Azevedo and Né Barros. Of the work of her authorship, stands Place, Magnetite and MARBLE.
Filipe Moreira 
Filipe Moreira has a degree in Choreography from Falmouth University and a degree in Theater from the Contemporary Academy of the Spectacle. He works independently and in collaboration with various national and foreign organizations / institutions. Seeking to bring together various areas of artistic expression in his work - all are fused for a certain purpose, the creation of artistic objects of a hybrid nature where body, voice and manipulation build a unique and multifaceted universe.
Rita Pinheiro, 31, a professional actress trained in Balleteatro, has worked in the last years essentially as an actress and teacher in several institutions of children and adolescents.
There are also some projects in the music area.
Luís Mestre (1974) lives in Porto. He is a playwright, director, translator, actor, drama teacher and history and arts culture teatcher at Balleteatro Profissional School and researcher at the Comparative Literature Institute Margarida Losa (ILCML-FLUP). Doctorate in Artistic Studies at the Faculty of Letters of the University of Coimbra and Master in Theater Studies by FLUP. Translated into Portuguese several plays by English and Spanish authors. As a playwright he received several national and international awards and distinctions, thus becoming one of the most awarded Portuguese dramatic authors of today. He has published several of his dramatic texts in Portuguese, English and Spanish. Member of the Board of Directors of Plateia - Association of Performing Arts Professionals since 2014. He has been artistic director of Teatro Nova Europa since 2004.
Studied Dance, Classical Dance and Indian Martial Arts and Expressive Arts in Portugal, India and USA. She is active as a performer, choreographer and facilitator of dance and expressive arts.
Rita Pinheiro
Rita Pinheiro 31 anos, atriz profissional formada no Balleteatro, tem trabalhado nos últimos anos essencialmente como Atriz e professora em diversas instituições de crianças e adolescentes.
Tem também alguns projetos na área da música.
She was born in 1984. She completed her degree in theatre at ESAP in 2007. As a theatre director and teacher, she worked in several institutions, schools, nurseries and kindergartens. Her work as an actress has been most noticeable in children's shows.
Tiago Sarmento is an actor and director. He has completed his artistic training in Portugal, England and Russia and since then has been working in theatre, film and television. He has already integrated projects at Teatro Nacional de São João, Teatro de Almada and Teatro Oficina.
She was born in 1982 in the city of Porto. She began her studies in classical ballet at age of 3, attending various institutions, among them the Academia de Bailado Clássico Pirmin Treku in Oporto. She attended the Conservatory of Music and Dance in Funchal. She has worked as a dancer since 2002 and since 2011 as Artistic Director at the company Ballet Contemporâneo do Norte. She teaches Classical Technique classes at the Balleteatro Escola Profissional.
Professional course of Contemporary Dance at the Royal Conservatory of Dance "Mariemma" (Madrid). Consultant of movement of the company Ensemble - Sociedade de Actores. Training with Fabian Thomé (Sidi Larbis' Company), Ricardo Ambrózio, Pedro Berdäyes, José Reches, Oscar Lozano, Christine Tanguay, Dimo Kirilov, Laure Courtellemont, Cristiane Boullosa, Lucia Marote, Maximiliano Sanford, among others.In 2013 she completed the professional dance course in the balleteatro professional school.
Mélanie Janel is a teacher of hatha-raja yoga and yin yoga. She also took a course on yoga and relaxation techniques within education (Recherche sur le yoga dans l'éducation) in France. For Mélanie yoga is an art of living, a practice of openness of consciousness, and of physical and mental balance.
She investigates Traditional Dances of the West Coast, specializing in Mandengue heritage dances since 2001; Main specific training courses: Abdoulaye Camara, Allatantou Productions (Guinea / Sweden) since 2005; Jalikunda, Senegal 2007; Companies Les Ballets Africains and Les Ballets de Matam, Guinea Conakry, 2007, 2011, 2012, 2013). Artistic and Choreographic Director of Allatantou Dance Company, since 2008; Gulbenkian Fellowship Dance Creation Program 2012.
Diogo Santos 
Diogo
Santos
, bailarino, coreógrafo e professor. Estudou no Balleteatro Escola Profissional e licenciou-se na Northern School of Contemporary Dance. Trabalhou com Balbir Singh, Francesco Scavetta, Gavin Coward, entre outros. 
Diogo
 recebeu um Creative Contribution Award (2016) e Creative Award (2018).
Ricardo Pereira 
Ricardo Pereira, Porto, 1991. Bailarino, professor e coreógrafo. Estudou no Balleatro Escola Profissional e na Northern School of Contemporary Dance. Trabalhou profissionalmente com Victor Hugo Pontes, Né Barros, Lenka Vagnerová entre outros.  Os seus interesses giram à volta da conexão entre a dança e a consciência/mente.
Diogo Santos, dancer, choreographer and teacher. He studied at the Balleteatro Escola Profissional and graduated from the Northern School of Contemporary Dance. He worked with Balbir Singh, Francesco Scavetta, Gavin Coward, and others. Diogo received a Creative Contribution Award (2016) and Creative Award (2018).
Ricardo Pereira, Porto, 1991. Dancer, teacher and choreographer. He studied at the Balleteatro Escola Profissional and at the Northern School of Contemporary Dance. He worked professionally with Victor Hugo Pontes, Né Barros, Lenka Vagnerová among others. His interests revolve around the connection between dance and consciousness / mind.
Sara Lopes was born on September 22nd, 1996, in Oporto.
She began her experience in Classical Ballet in 2003 at the Escola de Bailado Adriana Domingues and in 2006 she began attending the Academia de Música Vilar do Paraíso. In 2011, she applied for the Balleteatro Escola Profissional, in Porto, which she attended for three years. In 2013 she concluded the Professional Course of Contemporary Dance Perfomer, in the Balleteatro Escola Profissional. In 2017 she completes the degree in Dance, at the Escola Superior de Dança of Lisbon.
Micaela Soares

Micaela Soares, nascida a 14 de agosto de 1993 na cidade do Porto, concluiu o Curso Profissional de interpretação no Balleteatro Escola Profissional em 2012. Em seguida, fez estágio profissional no Teatro de Marionetas do Porto, Desde então, tem vindo a trabalhar com diferentes companhias e criadores, dos quais destaca Teatro de Ferro, Isabel Barros, Napalm_CTDCA, Lídia Martinez, Olga Mesa, Thais Guimarães, Teatro da Garagem e Teatro de Marionetas do Porto, companhia à qual está ligada desde 2014, fazendo parte da equipa permanente.
Cláudia Granjo, bailarina, professora e orientadora de dança movimento terapia, formada no Conservatorio de Danza de Madrid, realizou inúmeros cursos de formação na área da dança movimento terapia, dança criativa e psicologia na educação. A par do seu trabalho como bailarina, conjugou desde sempre aulas de dança criativa, workshops em família e formações na área entre Portugal, Espanha e França.
Informação brevemente disponível
Sérgio Filipe, professor de voz e coral de A Cappella. Natural de Inglaterra, onde estudou Teatro Musical e Música e desenvolveu as suas competências como cantor, dançarino e ator. Trabalhou profissionalmente no Teatro Musical durante 13 anos em vários espetáculos, cruzeiros e videoclipes.
Nascido no Porto em 1979. Produtor e Coreógrafo de vários espectáculos Nacionais e Internacionais.
Bboy e Funky Styler Profissional, interprete em diversas peças e Festivais Internacionais de Dança (Al Mada Nada TNSJ, Momentum Visual Poetry, Musica e Movimento, Festival la Merce Barcelona, Festival de Bordeus, Festival Cergy Dança Urbana Paris…). Líder de Momentum Crew (Crew Profissional de Bboying e considerada por muitos uns dos melhores projectos mundiais da área), vencedores de mais de 70 primeiros lugares em diversos eventos de relevo artístico mundial 
Vencedor do campeonato Mundial IBE (Holanda) em 3vs3 2011, 2012 e 2013. Vencedor do campeonato Mundial de equipas de 2016, a BATTLE PRO, França. TOP4 do campeonato Mundial de equipas de 2017, a Freestyle Session Los Angeles, USA. Vencedor do campeonato Mundial de equipa 5vs5 de 2018, a Warsaw Challenge, Polónia. Docente da "Escola Superior de Dança" época 2013/2014. Cooperou com projetos artísticos para a Universidade de Lisboa. Professor de Pós-graduação no Instituto CRIAP, Porto e Lisboa. Desenvolve projetos em cooperação com o Conservatório de Música do Porto e o Balleteatro (atual docente). Director e criador da "World Battle", "Eurobattle" e da "Bboy Gala". Responsável pelo centro de Arte MAXMOMENTUM.
Bailarina, Coreógrafa, Investigadora e Professora de Dança e Pilates
É Professora de Dança da costa oeste de África desde 2003, tendo criado o seu método de ensino "Farisogo Sira- O Caminho do Corpo". Frequenta atualmente o Doutoramento em Dança, na FMH.
Desenvolve desde 2009 projetos de pesquisa, formação e criação artística realizados na Europa, Burkina, Benim e Brasil, apoiados pela GDA e Fundação Calouste Gulbenkian.
Tânia Pinto é Bailarina de Dança Contemporânea, nascida em Vila Nova de Gaia em 1995. Concluiu a licenciatura de Bailarina Profissional em 2018 na Universidade Northern School of Contemporary Dance, Inglaterra. Regressada a Portugal, iniciou o curso de Mestrado em Ensino de Dança na Escola Superior de Dança (2018/2020).
Afonso Cunha começou o seu percurso como bailarino com break dance em 2007. Após cinco anos, iniciou a sua formação em contemporâneo no balleteatro Escola Profissional acabando a formação em 2015. Nesse mesmo ano, colaborou com Né Barros na peça "Lastro" e estagiou com Victor Hugo Pontes na peça "se alguma vez quiseres a minha vida, vem e toma-a". Em 2016, deu continuação à sua formação, em Salzburg, com um curso de quatro anos na escola SEAD (Salzburg Experimental Academy of Dance), onde teve a oportunidade de colaborar com vários bailarinos e coreógrafos internacionais.