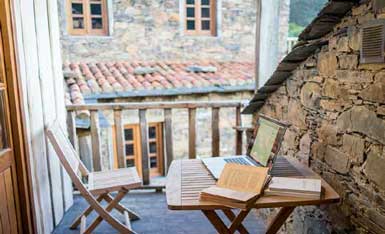 Residências
candidaturas
In a space free of prejudice or social labels, two individuals reflect on the state of monotony, deconstructing it with demonstrations of extravagance, in a dance composed of staged and symbolic elements that communicate ideas of how we are sometimes incapable to really observing those around us and the singularities that each one holds. Thus, Dois Peixes em Marte seeks the acceptance of authenticity in a society that sometimes disapproves of difference.
It is Man's nature to wait. We all wait, we face towards what is ahead. We are evolving beings and this essence of the future, modeled on 'waiting', can turn into 'hope'. "We wait for the bus, we wait for someone, for an exam and even for death", words by Anselmo Borges, summoned by Elisabete Magalhães to echo some of the "concerns" that were at the origin of her Grau Zero project, Um Corpo que Espera. "Research on the body, immobility and silence (and its possible implications for dance)", this work proposes, in opposition to the intrinsic acceleration of our daily lives and the idea of an object body, a halt and the listening to the body as " subject of perception "of itself and the world. Instigated by the declensions of silence in the works of Andrei Tarkovski, Merce Cunningham and Nijinski, the choreographer pursues in Grau Zero, Um Corpo que Espera for its "detailing" and questioning: "To inquire the silence for me implies a free state of intention and simultaneously a discourse, be it political, of resistance or of urgency. " Conception and choreography: Elisabete Magalhães / Light design: Wilma Moutinho / Video: Elisabete Magalhães / Performers: Júlio Cerdeira, Elisabete Magalhães / Coproduction: Escola superior de Música e Artes do Espetáculo, TNSJ
A temporary collective of three performers investigates how corporeal and oral processes are transmitted through the immateriality and the common imaginary based on several dance practices. Based on actions of interpretation, adaptation or contamination of their practices, performers revisit and transform their experiential archives into choreographies, fictions or demonstrations, and summon the public toan injunction space between complicity and contemplation.
Cindy Shapiro is a multifaceted artist with a valuable technique and artistic background. She was artist-in-residence at the Cité Internationale des Arts where she composed her first opera inspired by the myth of Psyche, Psyche: First Upon a Time. Through this work, she received an important arts grant from the Tides Foundation.
balleteatro hosts residencies, for which it opens applications, occasionally, at periods to be defined. There are currently no open calls in progress. // At the time of registration, residencies by competition aim to create an opportunity for artists to develop specific projects within the performing arts in conditions of creative immersion. Applications must refer to a specific work project and must foresee at least one action that can be opened to the city. This action should not be confused with a final presentation resulting from the laboratory itself. The projects in the competition must foresee working with local people to be selected according to criteria defined by the author(s) of the project. The project file must contain: project presentation; title; artistic area; synopsis; participants' biographies; schedule; other existing supports and in what format; other elements considered relevant. This material should be sent to producao@balleteatro.pt. The duration of the residencies may vary depending on the specificity of the selected projects. If the project continues in the future, balleteatro should be referred to as a co-producer.