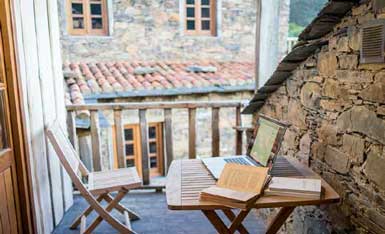 Residências
candidaturas
A river cannot go back like life. The waters that run and fulfil their destiny are disappearance and simultaneous rebirth. Birth and death, the beginning and the end, past and future, while living the present. The separate and different banks that are united by the look. In separate and united banks, identities are created. Like these margins, the two male interpreters mirror differences and similarities. The music will be original, composed of sounds of water courses, their geographies, smoothness and turbulence. Artistic Direction / Choreography Marina Nabais Performers / Co-creation Alban Hall, Marina Nabais, Tonan Quito Costume and Wardrobe Department Ainhoa Vidal Original Score Margarida Mestre Sound design Ricardo Figueiredo Dramaturgy Manuela Pedroso Plastic Conception Rita Borges Light Design Cláudia Rodrigues Photography and video Beatriz Tomaz Production Director Rita Borges Executive Production Raquel Lima
Music Jonathan Saldanha Light Design Romeu Guimarães Performers Susana Otero and Andreas Dyrdal Set design by Pedro Rosa Props Ricardo Neto, Pedro Rosa and João Pedro Rodrigues Costume Designer Carla Pereira Residences Balleteatro and Studio Performas Support Estúdio Performas, Contagiarte and Espaço João Pedro Rodrigues Co-production Academia das Artes dos Açores, Balleteatro, Burra de Milho and Oopsa Associação Cultural In this performance two astronauts burst into space, transporting us into a galactic odyssey. Plunging into this fantastic universe, we embrace the vertigo of progress, the attraction of the unknown and the imperfection of our portrait, immersing courageously in the depth of Space, the final destination of Humanity, place of all utopias and apocalypses.
Interpretation project directed by Víctor Hugo Pontes with the students of the 2nd year of Theatre of the balleteatro escola profissional Short description of the activity Heroes is a show that uses the same song title of David Bowie's as a motto, expressing one of the key ideas that guide each new generation. "We can be heroes just for one day" is adjusted, on the one hand, to the immediate pace of daily life, where everything that happens, happens quickly, but also to the configuration of the new social myths, in which heroes are almost always the more media people, such as pop singers and actors - boosted by the popularization of social networks and virtual encounters. What kind of new heroic deeds are possible today? In the answer to this question, the relationship of intimacy between actors and public will serve to illustrate a new type of heroism. Comments Under the partnership established with the Fundação de Serralves and it premièred at Serralves em Festa 2011
The doors are a well-known comic device used plentifully in the traditional comedy, in Beaumarchais, for example. Enter and leave at the wrong time, put your foot in your mouth, see what was not supposed to or hide behind a curtain. Meanwhile the houses were lost. Or they were opened. In the shows I usually do with the Teatro Praga there are no delimitations, scene walls or doors built, windows, those things. And so the door comedy can jump to the comedy of identities: an actor who is so many names that enters and leaves the names as who enters and exits through doors. This is the comical device of THIRD AGE. To which is added an idea out of the plot of a play by Marivaux, Good Faith Actors (1757): A theatre company is hired to perform a comedy in order to celebrate a marriage, but the mistress of the house, for moral reasons, does not authorize. Whoever hired them promises that not only will there be comedy as the owner of the house will be protagonist of the show without knowing it. Running TERCEIRA IDADE around "Who am I?", nothing better than an actor who does not know that he is being an actor as an unsolvable dilemma, in a spiral of matryoshka doll prone to fights for the "character", for the person, for the subject and for all these identities present in a show. There are four characters who, before starting, have retired. They recall the times of the battles, stealing memories of the wars movies in Vietnam's jungles and cities in a state of siege, and protesting for a proper retirement. People with the past, which presents wrinkles where we do not see them. The closest horizon is death, but the melancholy is comedy and the desperation laughter. At times they seem to come out of veteran movies like RED, THE EXPENDABLES or the last ROCKY, in which a set of glories of the action films (Bruce Willis, Morgan Freeman, Sylvester Stallone, Mickey Rourke ...) reunite for a last mission. As if the film were forever the same. And this stillness would relieve us of age. We are young and old, we are actors and characters, and we enter and leave without leaving the same place. Is this not comedy?
Coreografia: Marie Coquil
Interprete: Rozenn Dubreuil
Música: Dominique Cozien
Desenho de Luz: Marc Lepage
Produção: Compagnie pour un soir
Descrição breve da actividade
Contracuerpo is above all Eduardo Chapero-Jackson's short film, discovered within the framework of the international festival of the short movie of Brest by the dancer and the choreographer. They saw there together a point of departure in a work on the theme of the greed.
It is not a documentary on the anorexia, it is a short film of fiction shock on the obsession of a young woman whose dream is to reach the ideal weight to be certified true copy of a model of exhibition. Obsessed by her image, she makes a journey in the labyrinth of her own perception. With her body, she creates a prison exposed to the world and lives the autodestructive dream to become what she is not. In the movie, a model of shop window represents this ideal. The refusal of the curvatures and the femininity leads the thinness as the ideal of beauty.
The dance show exploits the theme of the refusal of the food to reach an idealized body.
The physical structure is made by angles, by projections and by hollow. She evolves in a frame of one whiteness spotless. The completely empty space leaves the place with the dance
and obliges the glance to linger only over the body. The screen, always present, makes the link with the movie, as well as the universe bluish.
The dancer, thin, cross different and complex states throughout this dance which is similar to an initiatory road.
This try(essay) deals with the idealized body and with the relationship which we maintain with its image.
In the continuation of the work developed with the presentation of the play "Mazezam", Catarina Miranda and the Colectivo Flocks & Shoals meet again at Balleteatro, in order to deepen a scenic study on intermediate states of perception, based on the study of the Korean dance choreographic movement "salpuri" (contextualized in its origin as a cleaning and extraction event). The scenic space is organized as an interstitial site, simultaneously stagnated in time, condensing in itself, a loop of fluids, in perpetual motion. A collaboration of Antje Schmidt, Catarina Miranda, Daniela Schmidtke, Miranda Markgraf, Roger Russell and Rosabel Huguet.
The research project "Domados, ou não!" was designed to see what we can call a sense of community. Through the construction of a play, a community is built - and what community is this but a plot of individuals, tamed, or not?
'..Because once you've opened Pandora's Box, you could have hell to pay!'
This research will start from the unpredictable encounter that I will have with the students. What I bring with me to such an encounter is the desire to use in a fragmented way various virtual and physical materials that already inhabit our bodies and the precarious world of which they are part of ... To use them, analytically, in the construction of an ambiguous environment, able to wake up the will by the unthinkable. The material produced will be continually exposed to a filtration based on conceptual parameters and plastics that over the years I have been accumulating. In this way, all the material created can be transformed, re-contextualized or even annulled according to a language that will be imposed.
As residências por concurso têm como objectivo criar uma oportunidade a criadores de diversas áreas de desenvolver projectos específicos dentro das artes performativas em condições de imersão criativa. A residência decorrerá em períodos a definir. 1. Regulamento Estão abertas as inscrições para um concurso de residências. O objectivo deste concurso é desafiar artistas de diversas áreas (dança, teatro, performance, música e instalações/artes plásticas) a apresentarem projectos de explorações dentro das artes performativas. É portanto objectivo da residência criar uma oportunidade a criadores de desenvolverem projectos específicos dentro das artes performativas em condições de imersão criativa. As candidaturas devem referir-se a um projecto concreto de trabalho e devem prever pelo menos uma acção que se possa abrir à cidade. Esta acção não deve ser confundida com uma apresentação final resultante do laboratório em si. Os projectos a concurso devem prever trabalho com pessoas locais a seleccionar mediante critérios definidos pelo(s) autor(es) do projecto. Os projectos devem seguir a seguinte apresentação: - Apresentação do projecto - Nome do projecto - Área artística - Sinopse do projecto - Biografias dos participantes - Calendarização - Outros apoios existentes e em que formato - Outros elementos considerados relevantes Este material deve ser enviado para producao@balleteatro.pt A duração das residências pode ser variável em função da especificidade de projectos seleccionados. Caso o projecto tenha continuidade num futuro, o balleteatro deverá ser referido como co-produtor.