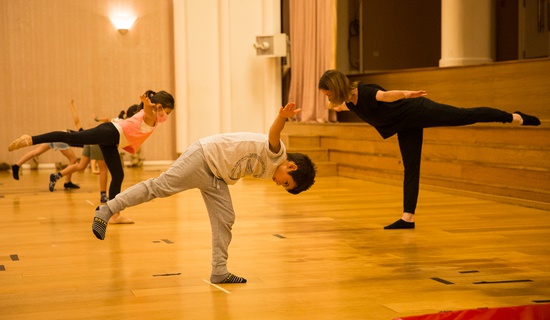 Yoga
Yoga 6 aos 12 anos
The Yoga classes will be guided by the Vinyasa method, the Sanskrit word comes from the prefix "vi" which means "variation" and the suffix "nyasa" which means "to place, to fix, to connect". The main objective in a Vinyasa class is to constantly maintain the connection between breath and movement, with one never happening without the other and helping the practitioner to find a more serene breathing rhythm which, in turn, will place him/her in a more peaceful and conscious state throughout the practice. In a Vinyasa class, the student can expect sequences of dynamic, fluid postures, allowing a continuous flow of movement and helping the practitioner develop mobility, flexibility, muscle tone, and balance.
INSCRIÇÃO:

https://bit.ly/EA_Inscrições
Horarios
Vanessa Cunha
Born in Porto in 1997, Vanessa Vieira da Cunha completed the professional course of contemporary dance interpreter at Balleteatro Contemporâneo do Porto and has a degree in contemporary dance from Fontys Hogeschoolvoor de Kunsten in Tilburg, having done an Erasmus period at Artesis Plantijn Hogeschool in Antwerp.
She has been practicing Yoga since 2015, having participated in several trainings, workshops and classes with teachers in Portugal, Belgium, Holland and India. She took the 200h Yoga teacher training from Yoga Renew, being certified by YogaAlliance. After completing the course, she taught in different spaces such as Tanztheater Erfurt, The North Wall Climbing, Deck Foz and Nun'Alvares Sports Center.