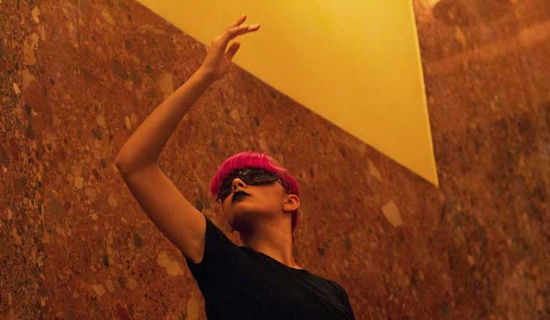 Artistic Project
Artistic Project > 16 anos
Como professora, bailarina e coreógrafa, estou muito ligada à educação e aprendizagem da dança e do movimento. No âmbito da minha nova criação "O que é um problema?", a estrear em maio 2023, tenho vindo a desenvolver uma série de ateliers de partilha de práticas artísticas em que proponho questionar os participantes sobre o que os perturba e o que gostariam de mudar no mundo, como parte da pesquisa a desenvolver. As propostas são práticas e consistem em exercícios de movimento e de artes plásticas sobre a exploração do espaço, do corpo e do coletivo, inspiradas em questões como:
O que é um problema e como o ultrapassamos? Que problemas existem no mundo? Eu tenho problemas? O que sinto quando tenho um? E se eu pudesse mudar o mundo? Tenho sempre de encontrar uma solução? Quanto tempo tenho para encontrar a solução?

INSCRIÇÃO:
https://bit.ly/EA_Inscrições
Horarios
Terça-feira 19h00 - 21h00
Artistic Project 11 - 15 anos
Projeto Artístico é uma oficina de partilha e transmissão de práticas artísticas de diversas áreas como a Dança, Teatro ou a Performance. Com uma periocidade trimestral, convidamos um artista por bloco, para dirigir um processo artístico com os participantes, que culminará com uma apresentação informal. É destinado a todos os interessados e estudantes em artes performativas.
INSCRIÇÃO:

https://bit.ly/EA_Inscrições
Horarios
Beatriz Valentim
Beatriz Valentim graduated from the Dance School of the National Conservatory and completed her training with the Elit Training Program of the Budapest Dance Theatre Company and the F.O.R. Dance Theatre of the Olga Roriz Company. She has a degree in sociology from ISCTE-IUL and concluded the Post-Graduation in Contemporary Dance at ESMAE, finishing with a scholarship for Camping 2020 from Centre National de la Danse.
She has worked with Olga Roriz, Renato Zanella, Jérôme Bel, Raimund Hoghe, Mafalda Deville, Elisabeth Lambeck, Olatz de Andrés, Inês Jacques, Mão Morta, São Castro and António Cabrita, Teatro do Montemuro, Sílvia Real, Francisco Camacho, Ensemble Sociedade de Actores, Né Barros, Jonas&Lander, Joana Magalhães and Comédias do Minho. Her first creation, together with Pedro Souza, "VADO: solo about empty things", premiered in 2018; it was followed by "NINA" (2019) and "Self" (2021).
She teaches contemporary dance in several schools and companies in the country.
https://beatrizvalentim.pt/
Joana Guilherme Pinto
Joana Guilherme Pinto, 25, graduated in theater from the Escola Superior de Teatro e Cinema after a professional course in acting at Balleteatro Escola Profissional, and also attended a post-graduate course in dramaturgy and scriptwriting at ESMAE.
She teaches at Serviço Articulado and Escola Artística Balleteatro, and is the artistic director of Associação Cultural GAIVOTÀJANELA, which projects, among others, social works thought through theater, from which came the work "VOODPR413", co-created with the dancer and actor João Oliveira. She is a playwright at the Writers Room of the Onírico Filmes production company, having written two audiovisual series, and also participated in the award-winning film-concert "O Filho Pródigo" by Luísa Pinto and Carlos Coelho Costa, as well as in several staged readings.