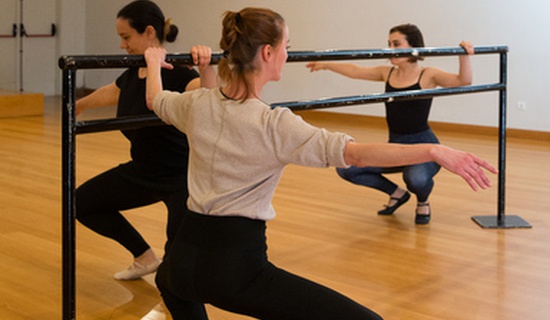 Ballet
Ballet 6 aos 12 anos
As the student discover the art of classical ballet, will progressively improve the coordination, physical awareness, and spatial orientation.
The exercises in the ballet classes will also help develop musical appreciation and stimulate individual expression.
The classes will be essentially practical, where we will introduce the basic steps of ballet and its French terminology.

INSCRIÇÃO:
https://bit.ly/EA_Inscrições
Horarios
Quarta-feira 18h00 - 19h00
Ballet > 13 anos
The classes will cover classical ballet technique in a relaxed environment where beginners, beginners, teenagers, and adults will feel integrated.
Through exercises on the barre and in the center, the student will develop tone, flexibility, and improve alignment and posture. The search for pleasure in movement will always be the main objective.

INSCRIÇÃO:
https://bit.ly/EA_Inscrições
Horarios
Quarta-feira 19h00 - 20h30
Segunda-feira 19h00 - 20h30
Vivien Ingrams
Born in England, Vivien graduated from the English National Ballet School and Rambert Dance School. In 2006 she began her career as a dancer with the Ballet Biarritz Junior. With the Bozsik Yvette Company of Budapest, Vivien collaborated on multidisciplinary creations, and returned to performing classical and neoclassical repertoire with the Ballet de l'Opéra National de Bordeaux. Vivien continued her freelance career in the Basque Country with the companies Kukai and Elirale. In 2011 Vivien joined the Ballet de Lorraine in France, where she performed repertoire by Trisha Brown, Merce Cunningham, Twyla Tharp, Martha Graham and played roles in contemporary creations with choreographers such as Olivier Dubois, Maria La Ribot, Mathilde Monnier, Gisèle Vienne, François Chaignaud and Marcos Morau.
Helena Magalhães
.
Born on October 1, 1998, in Vila Nova de Gaia. Started dancing at the age of 3 at the
Academia de Música de Serzedo (V.N.Gaia) and in 2008 started the Dance Vocational Course in
Ginasiano Dance School. In 2014 she enters Balleteatro where she completes the Interpreter Course
Interpreter of Contemporary Dance, in 2017. In the same year she enters the Escola Superior de Dança of the Polytechnic Institute of Lisbon. For three years she does a degree in Dance, finishing in 2020. finishing, thus, in the year 2020. After one year, due to pandemic issues, she starts a post-graduation in Contemporary graduation in Contemporary Dance at ESMAE (Escola Superior de Música e Artes do Espetáculo) from the Oporto Polytechnic Institute, finishing in July 2022.
During her training she had contact with names like Né Barros, Elisabete Magalhães,Isabel Barros, Cristina Planas Leitão, Flávio Rodrigues, Joana von Mayer Trindade, Félix Lozano Andresa Soares, Bruno Humberto, Yola Pinto, Christy Funsch, among others. Taught classes of Initiation to Classical Dance Technique at the Nursery School, Kindergarten Raios de Luz, Lda, in Vila Nova de Gaia, in the year 2017. She participated, in 2020, in an Artistic Residency at Teatro Leirena (Leiria). During post-graduation and as a performer, she participated in the "ESMAE Dance Marathon Dança da ESMAE" presented at Teatro Helena Sá e Costa.